Tibetan Meditation Mothers Day Weekend
Education At Elevation is hosting a day of education, exploration, exercise and relaxation, to raise money to provide education, food, shelter, shoes for impoverished kids in a remote nomad village, as well as scholarship for young Tibetan women at eastern Tibet.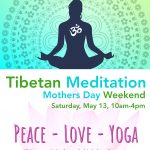 Benefits:
• A safe haven for 35 nomad children attending a remote school at 14,000 feet above sea level in Tibet to learn Tibetan and Mandarin languages and basic mathematics. We provide food, warm clothing, clean water and shelter.
• Tuition for 2 young nomad women to continue their education beyond high school.
We invite you to join us and help us in any way you can. We need volunteers, sponsors and/or simply help to spread the words.
• Morning Tibetan blessing and meditation by special guest, Khenpo Jampa Rinpoche
• Many choices of classes to chose from. Two to three classes/sessions starting every hour
• Variety of areas: Fitness, Meditation, Holistic health, Massage, Wellness and Yoga
• Bring local communities together. To inspire a healthier lifestyle.
• Magic of Tibet slideshow- Take a journey with Daniel Winkler, M. Sc. exploring the culture, geography, flowers, people at the top of the world
• Tibetan and Indian specialty lunch. Vegetarian available.
• Shopping for Tibetan art, jewelry, flowers, specialty items
• Child care service (kid's lunch available). Kids' yoga. Kids' art (making special art for mothers' day)
• To celebrate Mother's day weekend
Here are some of the classes offered:
Event day TIME TABLE here. NEW! Brochure here (Available at the doors too).
Tibetan Blessing Prayer (10 am) by Khenpo Jampa Rinpoche, the Abbot of Sakya Monastery in Seattle
The Art of Practising Tibetan Meditation (10:15 am) – How to practice any Tibetan meditation technique? How to practice anytime in your busy day? Khenpo Jampa Rinpoche, the Abbot of Sakya Monastery in Seattle
The Magic of Tibet Slideshow(12 Noon) – Explore the culture, the land and the people living at the top of the world with Daniel Winkler, M. Sc Enjoy the pictures and videos from Education At Elevation.
Tibetan Dance and Song Performance (after slideshow) by the children from Tibetan Language & Culture School
How to Bring Out the Best in Yourself – Planning the new You. Finding your "WHY?", insights on finding motivation and bringing about personal change. Brian Baker, personal trainer at PRO sport club, nutrition & wellness consultant, publisher of www.iwilltrain.com. Brian has trained leaders in business, entertainment, politics and professional sports including multiple Super Bowl Champions.
Tibet: Land and People – Explore the climate, geography, flowers & mushroom. Meet the fantastic fungus that fuels Tibet's economy. Join Daniel in his mushroom and culture exploration in Tibet. Daniel Winkler, M. Sc, mushroom expert and environmental consultant
Yoga Safety Tips – What are the Top 5 Yoga safety tips? What small changes can you make now that will help keep you moving pain-free for life? Dr. Patti Shelton, MD. Yoga teacher and author of 'The Yoga Doctor'
Holistic Nutrition and Naturopathic Health – Dr. Brooke Weitz
Pre-Buddhist Tibetan Mythology – King Gesar epic – Allison Stieger, MA
Kids yoga – Macy Ratliff
Maps and Hacks for the journey of life – Ngina Shulman
Relieving Pain & Tension: Gua Sha Method – Martin Heskiers
Stress Management and Wellness – Dr. Morgan Binnie
Sound Bath Healing with Crystal Bowls – Dawn Little Torres
Not enough information on the speakers and classes? Questions? No worry, please visit our BLOG for the teacher highlights, Q and A here
Order Tickets:
$20 at the door (will get 10 vouchers worth $2 each). Additional vouchers can be purchased at anytime.
What would that get you?
Classes – 4 to 5 vouchers per session
Child care while parent attending the event- 3 vouchers per child. (This is such a great deal because we wanted to give the parents especially mom a well deserve relaxation afternoon). Kid's lunch available for one additional voucher.
Drink and Lunch – 1 to 4 vouchers
Limited tickets available. Get yours early TODAY to save!
For more information on the event or updates on the classes & program, please subscribe to our list
Event Sponsors: THANK YOU awesome partners & sponsors!
Photos